Over the past few years, the Sunbelt Rentals team has noticed a shift in requests for temporary structures. Advancements in these highly-engineered structures have begun to close the gap between fabric buildings and permanent construction – and customers are eager to take advantage of new trends that provide the option to extend their potential applications.
Custom Structures for Every Application
Temporary structures have a whole host of applications that span a variety of industries and building types. From school gymnasiums to nuclear reactors to historic sites, temporary buildings offer a range of flexible, durable and safe options that are both cost-effective in the short-term and energy-efficient in the harshest of climates.
In the past, our clients have used temporary or semi-permanent buildings to supplement existing facilities during an expansion, replace or extend existing buildings, provide on-demand workspace following damage due to a fire or other disaster, accommodate fluctuating market demands, and more. Now, they're looking for opportunities to extend the utility of these structures for semi-permanent applications.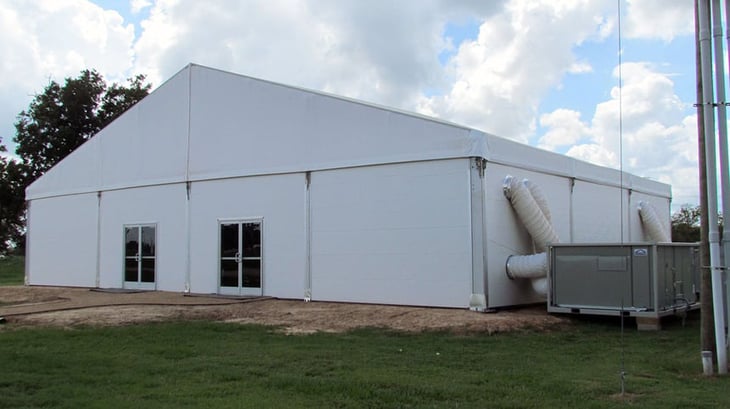 While temporary structures employ many of the customizable features that allow them to feel like a permanent building, such as HVAC, lighting, etc., there is often a significant difference between them and more permanent structures. Increasingly, we are working with customers to design more advanced structures that include things like:
Insulated hard sides
Temperature control
Humidity control
Insulation
Concrete pad with specific load requirements
Fire protection system
Internal power distribution
Fully function dock doors
Specific lighting requirements
Our customers are looking for semi-permanent buildings that function just like their permanent ones that they can use or outsource as they see fit. Risk mitigation, code enforcement and permitting are huge considerations for these long-term installations, which require that the company installing the structure consider things like the correct doors, a sprinkler system and more.
Essentially, these semi-permanent applications require custom amenities that err more on the side of a permanent building – which also requires a company that has plenty of experience completing these types of projects to anticipate potential issues along the way.
Interested in learning more about temporary and semi-permanent fabric structures or other services we offer?