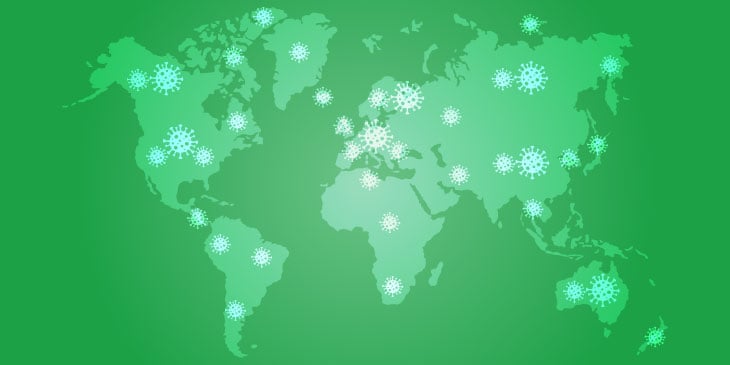 Since the onset of COVID-19, manufacturing companies have faced new challenges to keep up with both the new demands and slowed operations in each industry. Some companies are ramping up production while others need storage for produced inventory suddenly lacking demand. Businesses across all industries are requiring increased space to practice social distancing while getting back to work. For decades, Sunbelt Rentals has been solving issues like this for companies of all sizes — with the unique needs brought on by the COVID-19 pandemic, Sunbelt Rentals' solutions are helping clients navigate the new norm.
1. Supply chain disruptions are more common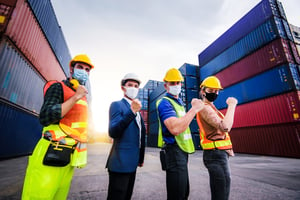 The COVID-19 pandemic has tested supply chains more than any other recent event. With entire states staying at home and social distancing, certain items are in huge demand while others have seen revenue plummet. Access to supply and the tools manufacturers need to adapt in a social distancing world are in high demand. Sunbelt Rentals has been able to help many companies adapt with temporary solutions that give everyone more space, therefore reducing the risk of infection and promoting work at a healthy distance.

Solutions for socially distanced assembly lines are all at Sunbelt Rentals' fingertips. The Sunbelt Rentals MegaStructure™, best suited for semi-permanent applications, industrial projects, and applications located in areas with harsh climate conditions, your teams can continue manufacturing at their normal or heightened speed and scale without giving up the amenities your typical work sites offer while also giving more space to introduce social distancing. With additional features like Guardian™ insulated-steel hard-side panels to provide crucial insulation, customized gables, and eaves to allow the installation of specialized garage doors, access personnel doors, and custom for HVAC units, Sunbelt Rentals is able to create a temporary but lasting manufacturing space in just days.



2. Keeping teams safe in the manufacturing work environment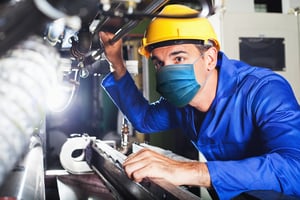 The CDC has stressed the importance of changing workspaces across all industries and company sizes to properly practice social distancing. For manufacturers that may mean increases in assembly line space to accommodate employees.

In the past, Sunbelt Rentals has helped massive manufacturing companies in this capacity. Whether you're an automotive manufacturer needing to be insulated, HVAC controlled, weatherized storage solutions to house vehicles ready to roll onto a lot, or if your company needs hundreds of thousands of square footage ready for a socially-distanced assembly line, Sunbelt Rentals has the tools and teams to move on next-day project kickoffs.



3. Keeping manufacturing teams socially distanced during lunch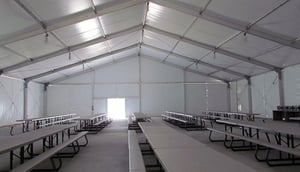 Thinking of the small details is crucial to keeping your teams safe during COVID-19. Sunbelt Rentals can provide durable, weatherized tents that fit hundreds of employees and cuts down the amount of traffic in and out of workspaces or construction sites can further help flatten the curve. Sunbelt Rentals understands the importance of safe, comfortable lunch and break structures and we offer a multitude of lunch tent structures. With features like HVAC, installed lighting, and ExpoDeck flooring, your teams can have a quality, comfortable place to rest during the workday.

Sunbelt Rentals lunch and break tents provide necessary shelter to allow teams to stay on-site and productive throughout the workday and give everyone a feeling of safety and security during the health crisis.



4. Limited storage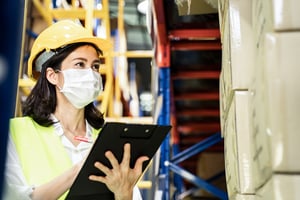 With so many industries in manufacturing facing a constant fluctuation of changes in demand due to COVID-19, finding safe, reliable, and secure storage options that won't become a massive and permanent investment can be difficult.
Sunbelt Rentals has used temporary structures to help solve the growing issues of storage and space needs for industries whose manufacturing is facing a backlog or lack of demand. As seen in this case study, when an international auto manufacturer needed storage solutions for their cars coming straight off the line, Sunbelt Rentals structures were there to provide adequate storage with all the same amenities found in their permanent structures. If your product is facing a lack of demand or increased need for storage, we have the team and solutions to help.


---
In addition to providing custom temporary structures of all sizes and complexities, Sunbelt Rentals offers turnkey services with same-day communication to get your needs met as soon as possible. We know how important keeping your teams safe is while continuing operations during this time and we're here to help.
Call one of our expert project managers to talk about your next big project.