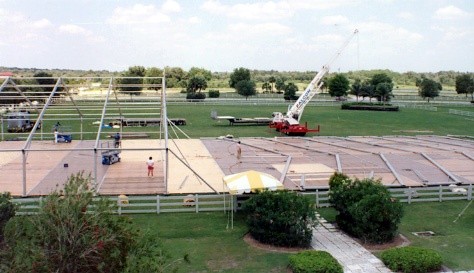 When it comes to flooring for your temporary fabric structure, you have a lot of options to consider. The first is whether your project requires flooring at all.
For some projects, installing your temporary structure directly on the ground surface is sufficient. For structures on uneven ground surfaces or for applications exposed to rain and snow, however, flooring is an important amenity for keeping the people and materials in your structure safe.
Why flooring?
Temporary structures placed directly on ground surfaces provide excellent protection from elements above and around the structure, like sun, wind, extreme temperatures and precipitation.
To decide if flooring is right for your project, consider your needs from the ground up.
Flooring can create a level surface inside your structure. As an example, one client 's massive trade show structure needed to be installed on a lot that had a large ditch. Flooring not only leveled the surface (as pictured below), it also created a high-end finished look inside the completed structure.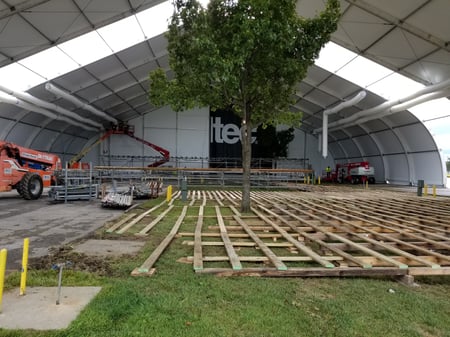 Weather and surrounding conditions are also factors in the decision to include flooring in a structure.
Because temporary structures on ground surfaces cannot be completely sealed to the ground, flooring provides a protective barrier.
Imagine your temporary structure is sited at the bottom of a slope. After a rainstorm, your structure will be in the path of runoff that can flow into your structure, damaging materials or creating a muddy ground surface inside. Adding flooring seals and protects the interior.
As another example, flooring is useful during extreme winter weather to provide additional protection from the cold, snowy ground. And when the snow melts, flooring protects your structure's interior from water seeping through the perimeter.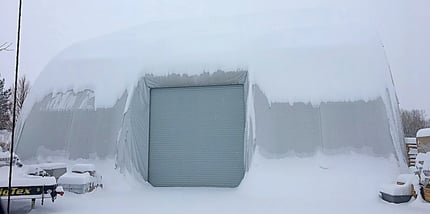 Flooring Options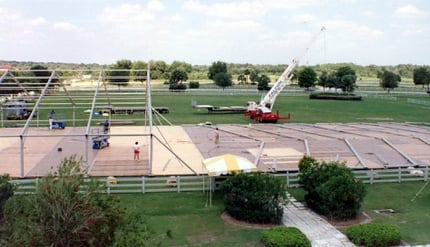 A reputable vendor will have a variety of flooring options, so you can choose the right one for your project.
Typically, no ground surface preparation is needed before installing flooring; however, for plastic flooring, smoothing the ground surface can enhance your floor's performance.
The most common flooring options are modular wood floors and ExpoDeck/Hexadeck.
For general use, modular wood flooring is ideal. it is appropriate for a wide variety of temporary structure applications, like base camps, special event structures and lunch tents. While wood flooring can be used as-is, it is most often covered with carpet to create a more upscale look, or vinyl or plastic for a non-porous surface that's easy to clean.
For temporary warehouses, we typically suggest tough and durable ExpoDeck or Hexadeck flooring, which are designed to bear the weight of forklifts and other heavy equipment without cracking or denting.
Bravo-Zulu industrial floors are designed to support light vehicular traffic, including cars, pickup trucks, small man-lifts, and smaller forklifts. Bravo-Zulu floors have been used inside military vehicle maintenance structures and event beneath helicopter landing zones.
Thermo-plastic Flexi floors are used on asphalt or concrete sites to provide a more finished interior appearance either with or without a carpet overlay. The ¾ in. height is designed to drain rainwater beneath it.
Ask your structure provider about all the options available to you, including add-ons like carpet overlay.
Working with a reputable turnkey temporary structure gives you access to a variety of amenities, so you can design your temporary structure to suit your needs perfectly.
See examples of flooring options real customers have used in our Project Gallery, and call us today to start planning your next project!
---
Related Posts: