For many projects, temporary fabric structures are an ideal solution. When you lease a temporary structure--whether it's for months or a week--you already know you've solved a couple of big problems regarding budget and time.
Permanent construction can't compete with the flexibility instant structures offer. Temporary structures are scalable and mobile.
They are also temporary—not forever. They are there when you need them and removed when your project is complete.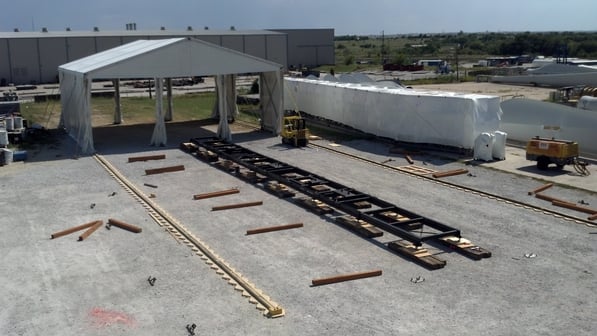 Leasing turnkey temporary structures offers many advantages, including professional installation and removal, allowing you to stay focused on your operations. Your vendor will install the structure, then dismantle and remove it from the site when you no longer need it, managing all the details along the way. A reputable vendor will also restore your site to its original condition, as if the structure never existed. This end of cycle service is called dismantling or site cleanup.
The time involved in the removal of your temporary structure varies, and you'll want to consult your structure provider in advance so you know what to expect. If your provider gives you a 2:1 estimate, expect the dismantle/site cleanup process to take one day for every two days of installation.
For example, if it took six days to assemble an event site, it will take approximately three days to disassemble your structure(s) and restore the surface of the site to its pre-construction status. When you vet vendor partners for your next project, ask if site cleanup can be expedited if your needs are more urgent.
When you work with a trusted, experienced turnkey provider, your participation in initiating site cleanup should be minimal. It requires nothing beyond confirmation from you that your structure is ready to be removed. Your vendor will handle the rest, and maintain open communication with you until the job is complete.
Read on to learn what to expect during site cleanup when you partner with Sunbelt Rentals, which can serve as a helpful guide for navigating the site cleanup process with any reputable turnkey provider.
Making the Call and Preparing for Structure Removal. Communication is key for Sunbelt Rentals' project management, field and operations teams.
That's why the very first thing that happens in site cleanup is a call from us to you.
For longer term leases, in the last month of your lease, your project manager will call to verify that you are ready to have the structure removed.
Your project manager will work with you to set a date for dismantling the structure and performing final restoration to the site. From there, your project manager alerts our Operations team, who then then assigns a Field Supervisor and the demobilization team.
You'll want to schedule any third-party amenities to be removed prior to tent structure disassembly.
Our Team of Experts Arrives On Site. The Sunbelt Rentals team will arrive onsite on the appointed day with the same equipment and tools for disassembling the site as they used for the installation.
The equipment list may include hand-tools, ladders, ropes, forklifts and man-baskets. Additionally, power equipment and accessories such as man basket attachments, power pulleys and vehicles used to help with the disassembly and transport will be onsite.
Team members include a Field Supervisor and expert technicians. The size of the demobilization crew varies depending on the size and complexity of the structure, and typically includes the same number of people that were on the structure installation crew.
Depending on the structure's ground surface, the team will bring appropriate restorative products, like asphalt plugs, to leave the site as pristine as possible.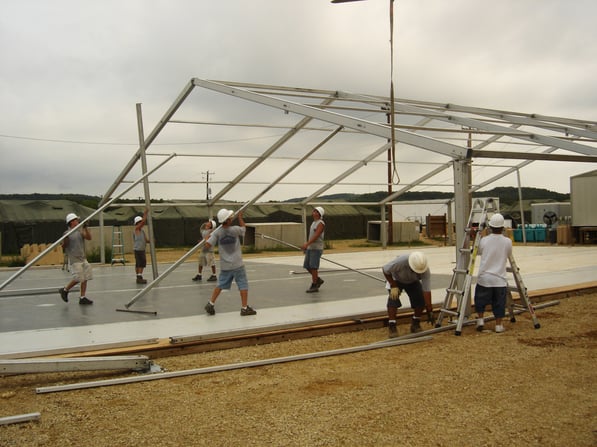 Phases of Dismantling the Tent Structure
Note: removal of third-party amenities is completed before the tent structure is disassembled
Site Safety assessment/review

Disconnect and remove accessories

Skinning the fabric

Disconnecting purlins & trusses

Removing Stakes & plates (or anchoring system)

Removing flooring

Ground surface repair
The safety of our crew and customers is Sunbelt Rentals' top priority. The first order of business once the team arrives is to assess the site conditions and make a plan for a safe dismantle. The field supervisor and his team will note any potential hazards and clearly explain their plan for executing a safe dismantle and demobilization. Each workday will begin with a safety meeting to discuss the tasks being performed that day, the potential hazards associated with these tasks, and the equipment needed to safely perform these tasks (PPE, safety lines, etc.) All safety equipment is inspected and certified safe prior to use on the job site.
Having taken the necessary steps to ensure safety on the job site, the crew will commence dismantle by first disconnecting and removing furnished accessories, such as doors and lights, and packaging them for safe transportation back to our facility.
"Skinning," or removing the fabric, is the next step of the dismantle process. The procedure varies depending on the structure type. For instance, an A-frame structure has fabric on the walls and top that must be skinned separately, while Sunbelt RentalsTension Series (MTS)™ is one piece of fabric. A power pulley system on the ground is employed in either case to bring the heavy fabric safely down to the ground. Once down, the fabric is folded and bagged. Later it will be transported to our location for thorough inspection and meticulous cleaning and drying before returning to fabric storage.
Disconnecting the purlins (the horizontal units that connect the rafters and support the fabric roof) and the trusses is the next step. Depending on the height of the structure, telescopic forklift attachments and man baskets may be used. These attachments allow techs to safely scale to heights not attainable by a ladder. Once detached, the purlins and trusses are loaded in trucks and transported back to our warehouse.
Next is removal of the anchoring system used to secure the structure to your ground surface. Once complete, any flooring panels or raised floor components are removed.
Once all tent components, equipment and vehicles have been removed from the site, the team focuses on the ground surface to make any repairs within Sunbelt Rentals' scope of responsibility. All site surfaces are restored as much as possible to their pre-construction state. If the structure was installed on an asphalt surface, like a parking lot, our team fills the holes with asphalt plugs. "Soft" surfaces are restored as well. Our team smooths over compacted gravel surfaces or fills holes in grass surfaces. As a crucial last step, you will be called to the site to approve the appearance before the team leaves.
Turnkey Works
Turnkey temporary solutions offered by Sunbelt Rentals take the burden of dealing with the intricacies of site construction away from the customer's list of responsibilities. The goal is to make the process as easy as possible for our clients.
Project Manager Trip Gintz calls what the customer receives from Sunbelt Rentals a "plug and play" solution. As Trip puts it, "We bring everything we need to the site, we install it, we turn it over to the customer. When they are finished, we take it away. We don't leave any pieces or parts behind. Our customers have their own projects to execute and businesses to run. I keep my small portion of their responsibilities worry-free, so they can focus on more important things."
Ready to learn more about how Sunbelt Rentals' turnkey solutions can help your business?