When it comes to the oil and gas industry, industrial maintenance, turnarounds and plant expansions are all part of the job. These events enable your operations to continue moving smoothly for years to come.
Over the past few decades, advancements in technology have made fabric structures the ideal solution for petrochemical plant turnarounds, temporary warehouse storage and on-site break areas. As your project needs change or your operations grow, temporary buildings can expand to accommodate additional materials and personnel. These temporary warehouse structures or blast-resistant break tents can be retrofitted with a wide variety of accessories to ensure the comfort of your employees. Plus, the design can help promote a safer, more flexible working environment.
Another added benefit is the ease with which you can adapt the structure to meet your needs. During extended projects, space needs may change with little to no notice. Fabric buildings can be easily modified to accommodate these changing project specifications at a moment's notice, saving time and money while meeting the needs of the refinery.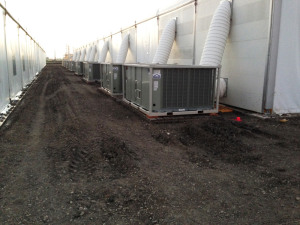 Although temporary in nature, advancements in fabric structure technology are closing the gap between fabric and traditional buildings. These engineered structures meet the code requirements of permanent buildings and can be customized to withstand high winds and snow loads, as well as other extreme weather conditions, making them an ideal solution for refineries, regardless of their location.
When seeking temporary and semi-permanent industrial fabric structures, look for a company with a documented history of innovation and excellence that you can count on to provide safe and compliant tent solutions, no matter how big or small your project's needs. Such a company should hold ISNetworld, HAZWOPER, TWIC, DISA (Defense Information Systems Agency), PICS (Pacific Industrial Contractor Screening) and OSHA certifications, as well as site-specific credentials, to ensure the safety of its employees and your workforce on-site.
This article originally appeared in BIC Magazine.
Interested in learning more about our fabric structures and the other services we provide? Contact us today!